Every trip I take, whether brief or long, always includes a stop in a bookstore in an attempt to expand the travel section of my home library. At the beginning of September, I visited Venice for the first time and I was actually a bit disappointed. However, before leaving, I googled the phrase "bookshop in Venice". In a quiet little alley near Piazza San Marco I found a beautiful and peculiar bookstore. This bookstore is called "Acqua Alta" and is an amazing and unusual place due to its history, owner, appearance and contents. It also overlooks many of the city's canals.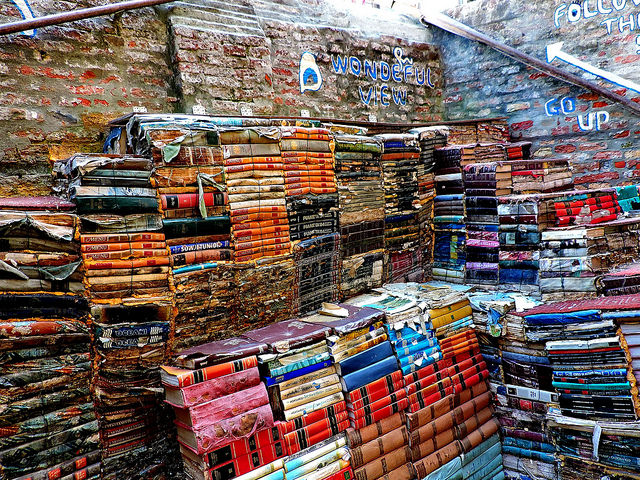 LIBRERIA ACQUA ALTA
The bookshop was founded in 2004 by Luigi Frizzo, who was born in Vicenza, but became Venetian by adoption. He manages to represent Venice in a very unique and authentic way, thanks to his creativity and genius. The books, strange furnishings, cats and of course, high water ("Acqua Alta"), found in his bookstore are all symbols of Venice. To protect the many books from the water that gradually enters the shop, he uses gondolas, canoes, boats and barrels instead of shelves. He doesn't rely on a digital catalog but he knows all of the inventory by heart.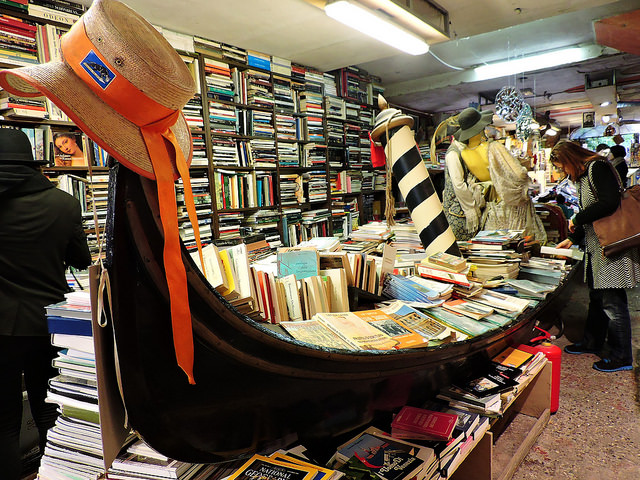 HIGH WATER IN VENICE
Mr. Frizzo is a valuable guide for those who venture into his shop. He is always willing to answer people's questions with a smile and Venetian pride. He loves showing tourists and customers what he likes most about the bookshop: a staircase of books, the emergency exit, and the gondola.
The staircase of books was actually originally intended as a device to allow customers to enjoy the view on the Venetian canals and to see the palace where Hugo Pratt set one of the stories of Corto Maltese. But as Luigi reveals in an interview, the staircase itself is more striking than the panorama. I promise that you will be amazed. The staircase is made from ruined books destined to be thrown away. Even the emergency exit is a display to be admired. It has a window on the canals with chairs and a sofa to greet the gondolas passing by.
In order to orient yourself among the high rows of books, you only have simple hand-written signs. There are so many titles available: a lot of used, ancient and unobtainable volumes that would even amaze book collectors. But you can also find best-sellers and original versions of classics like the Little Prince in the Venetian dialect. With a little patience and a bit of luck, you can find books that you may have been searching for for a long time. And if you do not find anything interesting, don't worry: at the very least, you just visited one of the most beautiful bookstores in the world.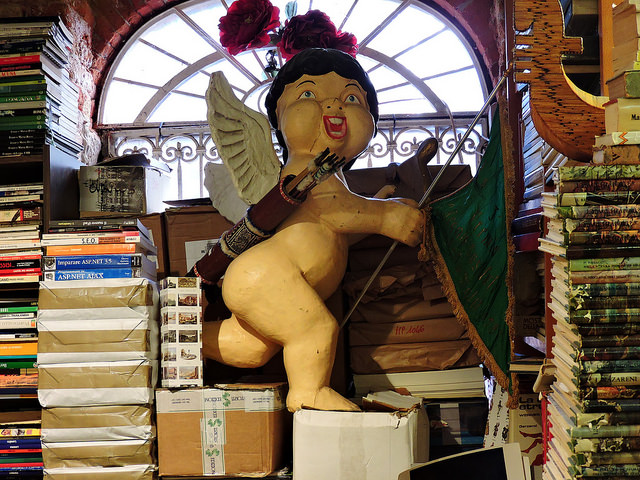 MOST BEAUTIFUL BOOK SHOP IN VENICE
Perhaps you will lose yourself in the foreign literature section, or walk around this maze of books, or take an abundance of photographs, attempting to capture and remember each corner of its rarity. In any case, this will be a piece of Venice you will never forget. Especially if you're a book-lover like us.
This is a more authentic side of the submerged city, far from the classic tourist stereotypes. This bookshop can be found on the official tourist website of the city of Venice in the "Detourism" section.
The "Acqua Alta" bookshop is located on Calle Lunga Santa Maria Formosa, also known as Castello Sestiere 5176/B. The shop is open every day from 9 AM to 8 PM.