The spectacular Frasassi caves are one of the main attractions of the Marche region of Italy. These caves are about 40 minutes' drive from Ancona, in the regional natural park of "Gola della Rossa e di Frasassi". The Frasassi caves are special for their huge and imposing size. They are the biggest karst cave complex in Europe. So far only 13 km of limestone caverns have been explored but the caves may run for up to 35 km.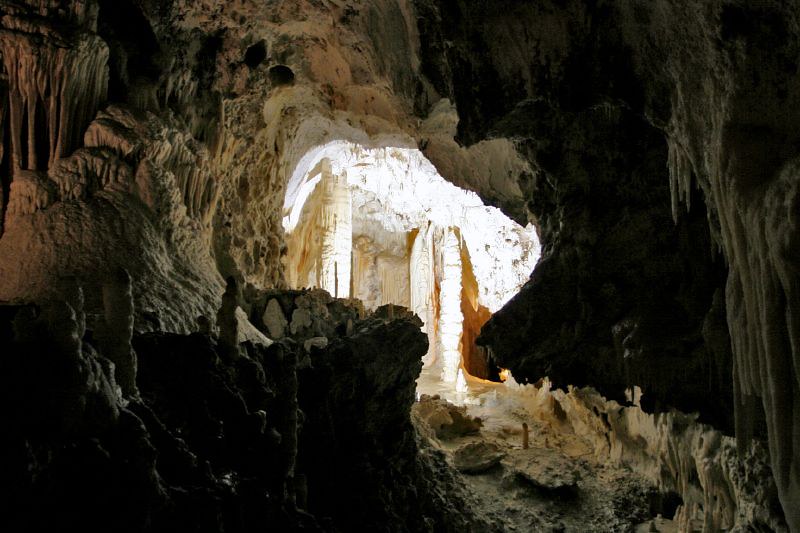 They were discovered in 1971 by the Cai Speleological Group of Ancona and opened to the public in 1974.
HOW TO VISIT THE FRASASSI CAVES
The Frasasssi caves are also well-equipped for tourism. One and a half km of this crystalline wonderland are open to the general public. They can be explored on a guided tour. You will cross walkways with theatrical lighting and see inlaid stalactites, gigantic stalagmites and many other wonders of nature. You will also visit the massive "Grotta Grande del Vento", Europe's largest single cavern. It's so vast that the Milan cathedral would comfortably fit inside of it! The guided tour lasts for around an hour and the temperature inside is always 14 degrees Celsius so make sure you bring some warm clothes.
WHAT TO DO IN THE FRASASSI NATURAL PARK
Near the caves, you can admire the splendid Frasassi gorge and visit the medieval church of San Vittore delle Chiuse. This picturesque church and abbey is surrounded by the mountains and was built in the 11th century. It is one of the most important examples of Romanesque architecture in the Marche region. The abbey also houses the paleontological and archaeological museum of Genga. This holds the famous ichthyosaur of Genga, a marine reptile from the Jurassic. All of this makes the church well worth to visit on its own.