TRANSPORTATION BETWEEN MALPENSA AIRPORT (MXP) AND MILAN
The largest airport servicing the city of Milan is MXP, named Malpensa Airport. It's about 50 kilometers from the city center and consists of two terminals: 1 and 2. To reach both is simple, easily accessible by train, bus, or taxi. Here we will outline each option so you can choose the best for your travels to and from the airport.
TRAIN: THE MALPENSA EXPRESS
The Malpensa Express is a train service specifically designed to connect the city of Milan to MXP. However most of what you need to know, we will try to describe here. Two of the main train stations connect to Malpensa Terminal 1. From Piazza Cadorna, metro line 1: Cadorna, and the central train station, metro line 2: Centrale, you can hop directly on the Malpensa Express. Cadorna is the quickest with an average train time of 29 minutes, while for the central station it takes about 52 minutes, with more stops. The ticket costs €11 from Cadorna and €10 from Central, with departures every 30 minutes. The following shows the opening and closing train times.
Malpensa T1 – Cadorna, first departure 05.26 and last at 23.28
Cadorna – Malpensa T1, first departure 04.28 and last at 1.30
Malpensa T1 – Centrale, first departure 06.35 and last at 00.40
Centrale – Malpensa T1, first departure 05.27 and last at 23.40
NOTE: Malpensa Airport offers a free bus service to connect the two terminals
THE MALPENSA SHUTTLE
All Malpensa Shuttle buses connect Malpensa with the Milano Centrale train station with an average journey time of about 50 minutes. Tickets can be purchased inside the terminals or directly on the bus for €10. However, you can buy the tickets online to avoid waiting in line or having to wait for the next bus if the one you would like to take is full. The busses come every 20 minutes or so with a trip time of around an hour so, the worst case scenario could take you about 1.5 hours from your arrival/baggage claim to get to the city center of Milan.
TERRAVISION BUS
This company offers the same service as the Malpensa Shuttle. A one-way ticket will cost you about €8 and is better booked in advance also. There are typically long lines or large groups of people waiting outside these busses so its best to book a specific time and handle it all beforehand. You can see their time schedules by day and book easily through their website 
TAXI
Reaching Milan by taxi costs about €90. The rate is fixed so if the taxi driver tells you a different rate, choose another taxi. It takes an hour on average, depending on traffic. Only one stop is included in the price.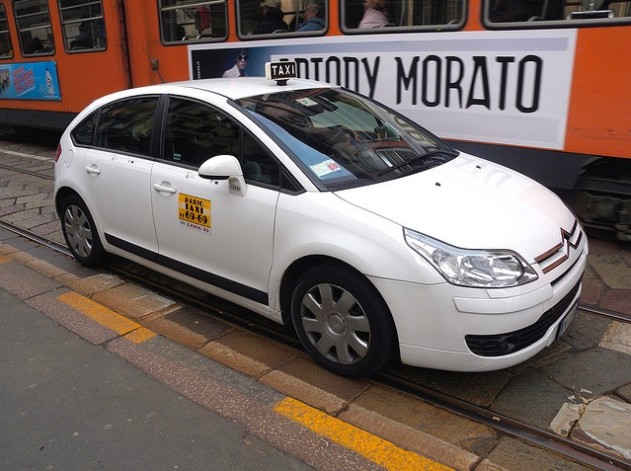 If you want to make more stops, you will be charged the normal fare and could cost you much more. Remember, if you get into a taxi and the driver starts the meter, get out and find another taxi who gives you the fixed rate price. If not, you could easily end up paying double the price!