ITALY AND THE NORTHERN LAKES
With a magnificent view of the Alps, the lakes of Northern Italy are the scenic shores that many venture to taking small holidays away from the cities. There are 3 main, most well known and 2 additional that are less popular worldwide. Typically, non-European travelers visit Lake Como, many fixated on the possibility of seeing George Clooney if by chance he is staying at his property there. Most travelers coming from other European countries tend to visit Lake Garda, home of a small castle enclosed shore town, Sirmione. Lake Maggiore is also quite popular and large in area however, most Italians holiday to the shore of Lake Orta when they need a water-related holiday. Lake Iseo is the last of the 5 we will mention in this article and is the least well-known but is still a great option for a lake-view vacation.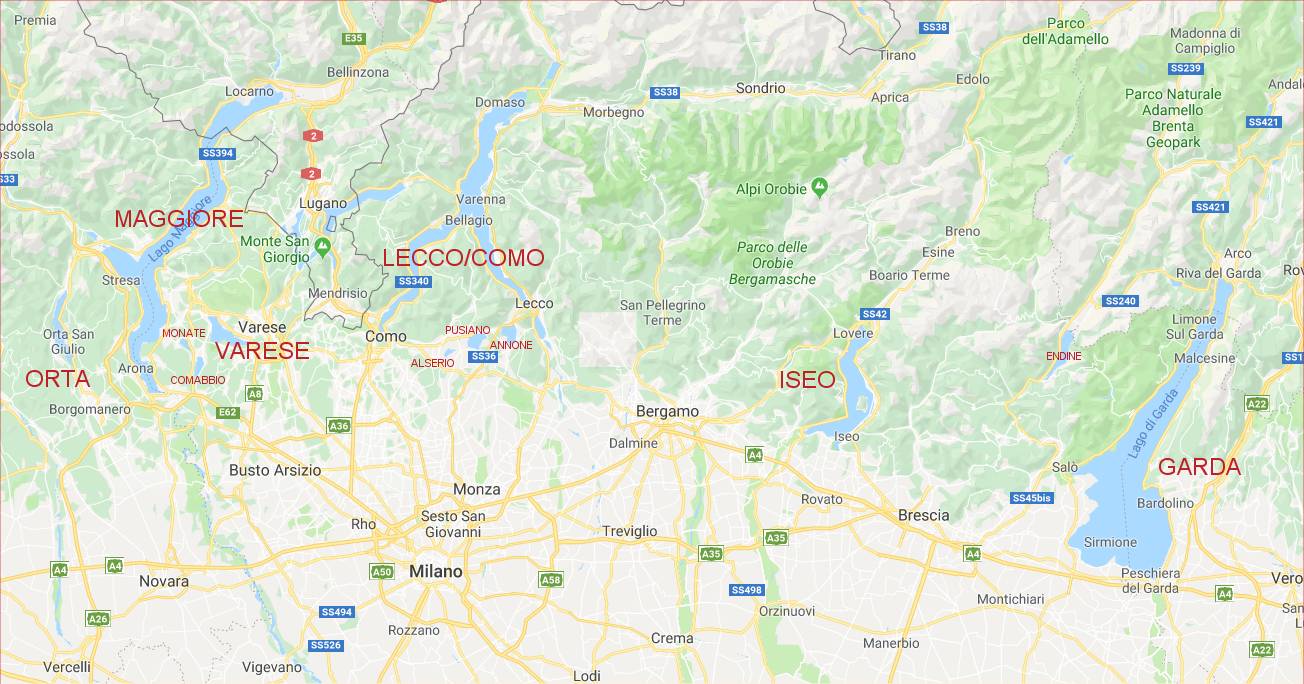 LAKE COMO / LAGO DI COMO
Like we said, who would pass up the opportunity to see the world-renowned actor, Mr. Clooney himself! Although you may not spot George, Lake Como is a beautiful additional stop on your Italian holiday. It's a very simple train ride from Milan at only about 30 minutes. Remember when we said that Italians vacation more often to Lake Orta? Well, the Milanese people flood to Como on the weekends or short stints of time-off from work. It's just such a simple ride so definitely an easy add to a few days trip to Milan.
If you rent a car, feel free to drive along the lake shore for some spectacular views. If coming by train, head into Varenna, a very small village on the coast with a ferry that connects all of the lake's major towns. This special village is home to a small castle with a miniature olive grove adjacent two the castle walls. Throughout the castle, you'll find eerie ghost statues in various places and poses. It's a unique view of the lake and a quite interesting (and slightly frightening) one on a day with some fog.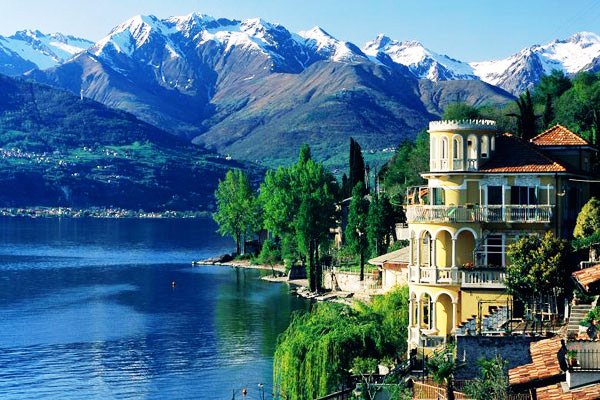 Bellagio is probably the most well known town on the lake for its expensive shops and romantic atmosphere. From here, you can also take the cable car to Brunate for a more elaborated view of Lake Como and its surroundings. The summer heat may be more bearable from up high as well! Monte Boletto is the sport-enthused traveler's break from lounging on the lake shore. Hike up there for a drop in temperature and some lake views as well. During the Christmas season, the actual town of Como hosts a lovely holiday market that draws plenty of attention despite the wind and slightly frigid temperatures.
LAKE GARDA / LAGO DI GARDA
Drive around this lake for about 160 km of lake-side views. The area around this massive body of water is home to plenty of parks and other excursion opportunities. On the Southern edge is Gardaland, an amusement park consisting of 7 large roller coasters and 4 water rides. Although it doesn't sit directly on the lake, it's an easy trip from there for a day of added excitement. Also close to this lake is Venice and Verona, two cities known for their romantic atmospheres and that are familiar with plenty of tourism year round.
On the opposite side is Milan, so Garda is another easy day trip from Northern Italy's main metropolitan city. A botanical garden on Mount Baldo can be reached by the lake-side town of Malcesine. This mountain is about 1220 meters high and a good way to explore different views of Garda from added elevation. Nature is a strong attribute of Lake Garda with the abundance of vegetation and compatible with highland and dry summer climates.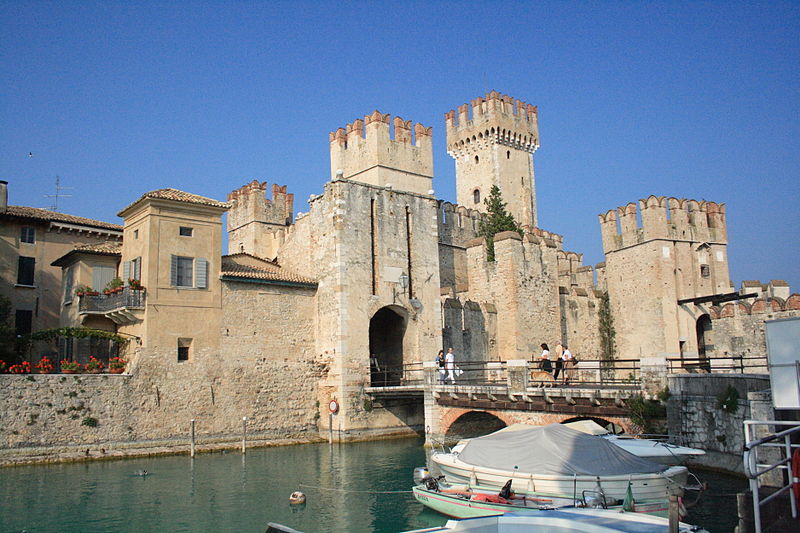 Sirmione, the adorable, small castle-walled town on the lake is a gem along the shore. The turquoise water, old stone walls, and blooming flowers make this village a must-visit of the area. On the tip of a small peninsula, Sirmione has quite a few lovely beaches to relax and enjoy the water or a pina colada during the warmer months of the year. Additionally on this bit of land is the residence of the Catulla family. Known better as the "Grotte di Catullo," this villa was built between the 100 BC and 100 AD, and was home to an important figure of the Roman empire. The area is now full of lemon and olive trees as well. It's yet another spectacular view. This is Italy's largest lake, so it has plenty to explore!
LAKE MAGGIORE / LAGO DI MAGGIORE
Italy's Northernmost lake is that of Lake Maggiore, dipping into Switzerland at the northern end. This is considered one of the main three northern lakes, as it is popular among tourists.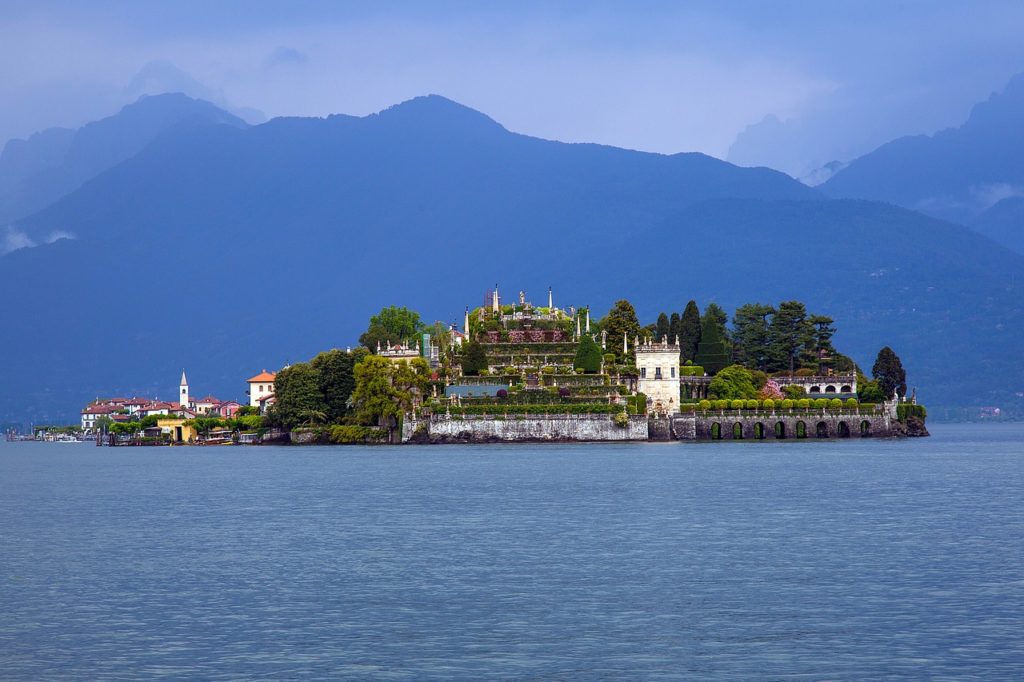 Reaching the Alps, this lake has a unique and close up view of some of the finest natural areas. Everything from zoological and botanical gardens, extreme sports, historical castles with newly grown mountainous vegetation, and more surround its narrow body. It is about 65 km in length and is the second largest in Italy after Lake Garda. It's Northern position produces a humid subtropical climate, allowing for mild winters and summers, trapping heat in the colder months and giving way to a cooling water breeze in the warmer months. If you are an extreme sports fan or just enjoy an active vacation, Lake Maggiore is the destination for you.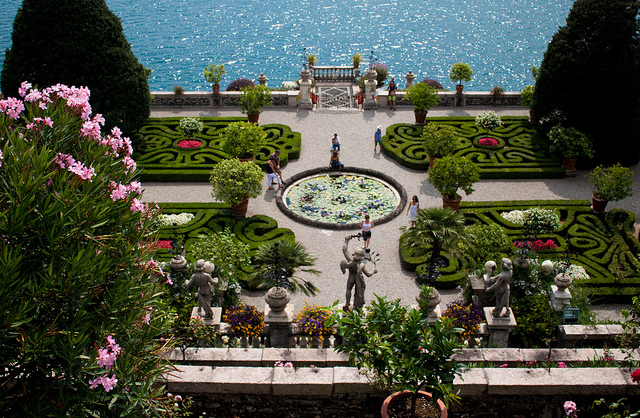 The Santa Anna Gorge creates the perfect spot for rafting and kayaking in the lake's mild waters. The surrounding mountainous terrain is also a great area for mountain biking and hiking. The Mottarone Mountain gives way to a unique 360 degree, all-encompassing view, easily reached by cable car if you're not up for the intense hiking excursion.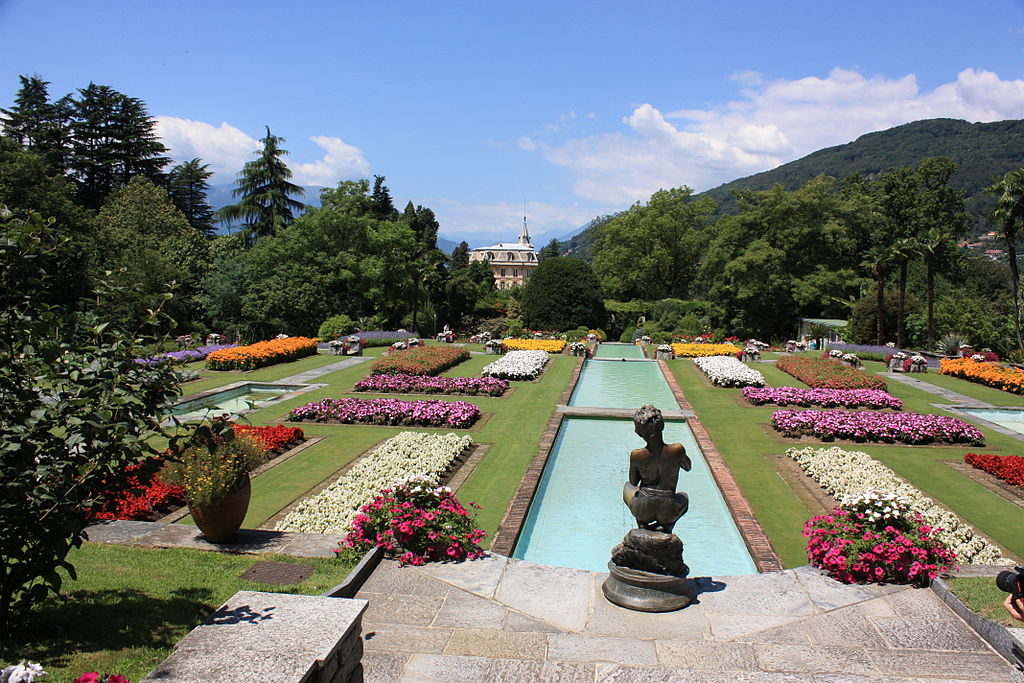 From here, you are made aware of the various fortresses and churches built into the mountains that have been there for centuries. The town of Stresa is the most commonly visited by tourists for accommodation. But plenty of space on this large lake is suitable for tourism and an overnight stay.
LAKE ORTA / LAGO DI ORTA
The Italian choice – Lago di Orta. It's no secret that Italians and Italy as a country are known for their romantic and creative qualities. So it's no surprise that this lake is typically the chosen spot for creatives. Whether a writer, poet, painter, or practicing another of the creative arts, this spot is sure to inspire. The German philosopher, Friedrich Wilhelm Nietzsche, is said to have spent many years on the lakeside of Orta, producing the famous Thus Spoke Zarathustra between 1883–1885.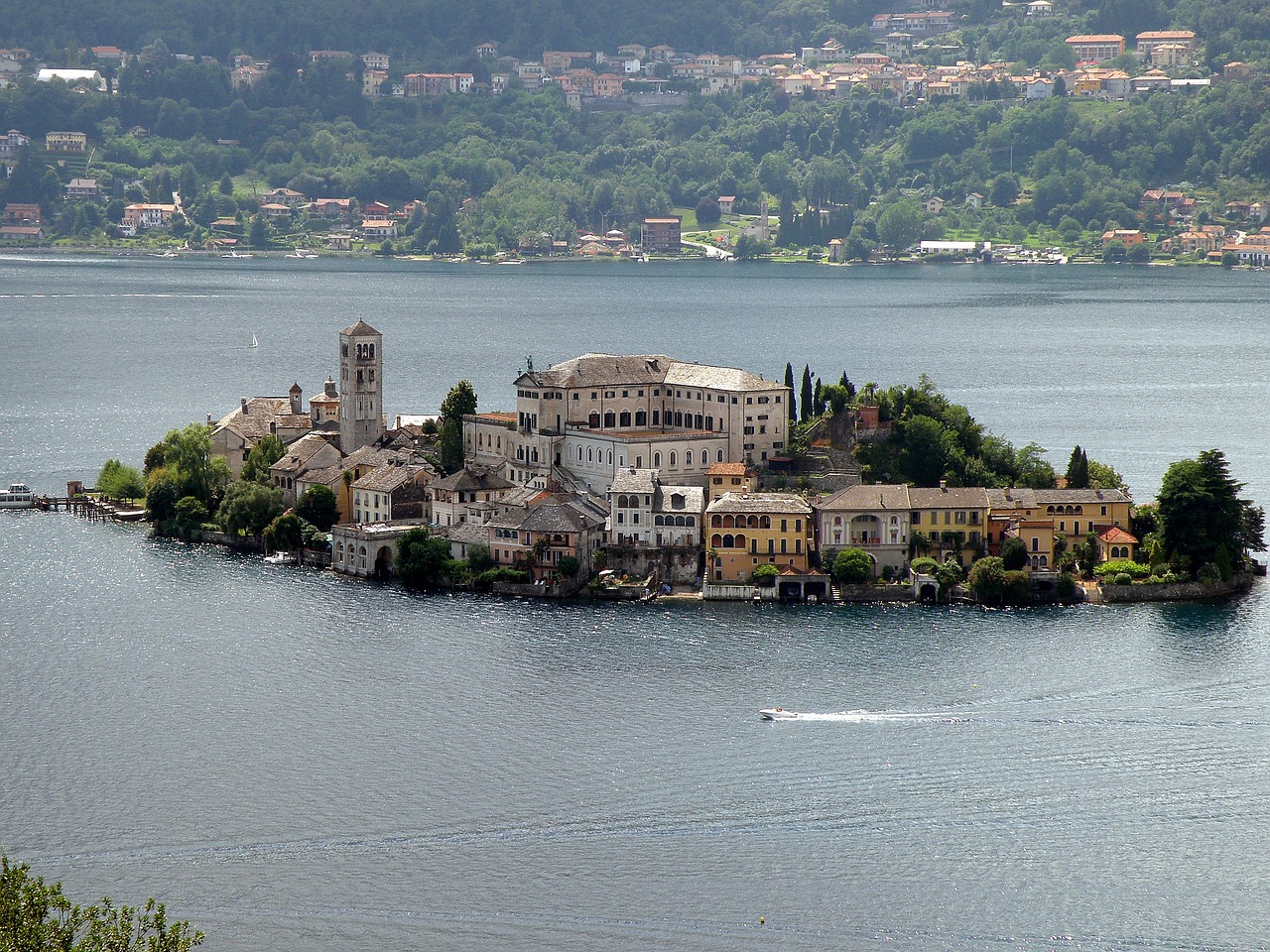 The main attraction of Lake Orta is the island of San Guilio and for good reason. It's the only island on the lake and carries a unique charm and view of the lake's main shores. The "Sacred Mountain" / Sacro Monte gives way to an out-of-this-world view during the afternoon sunset and dusk hours. With the perspective from the island, you can see the shore, the mountain and the sky in a frame that no photo will do justice. Try out the Italian favorite lake vacation spot and see for yourself!
LAKE ISEO / LAGO DI ISEO
This hidden gem won't be on your typical tourist map or itinerary suggestion. Lake Iseo is a small jewel, away from the crowds and tourists that the other lakes in this article come with. The island in the center of this translucent body of water. This is the largest lake island in Europe. Monte Isola is home to 1770 people and is compromised of 11 villages. A plethora of 15th and 17th century churches and indications of ancient Roman settlements decorate the island.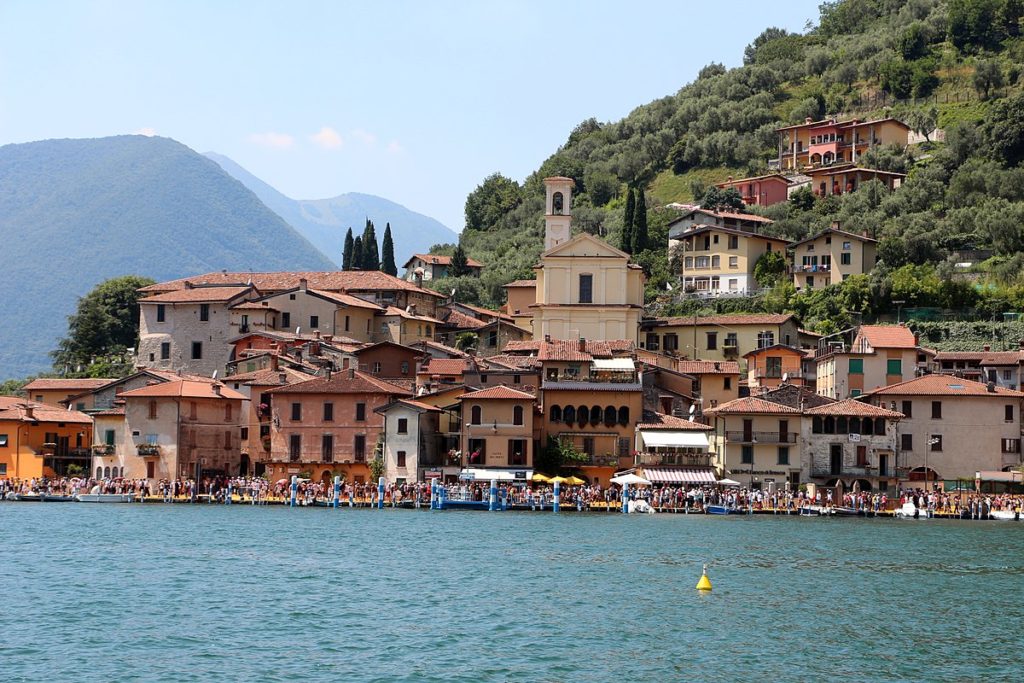 The rules of the island exclude cars, allowing for only bikes and mopeds. But hiking is a great way to explore as well. Find your way up to the Madonna della Ceriola church of the 13th century through groves of olive and walnut trees. Be prepared to break a sweat but it is well-worth it! Many Medieval towns dot the main lake shores such as Riva di Solto, Marone, Sarnico, and of course, the town of Iseo itself. Marasino and Sulzano host a ferry to the island so those are a must visit. However, all have their charm!