There's a tactile museum in Ancona(called Museo Omero) where the only rule is that you must touch the exhibits! If you have small children who want to touch everything and can't sit still then this place is perfect for them, especially on rainy days. Young children usually feel bored in museums. They have to follow all the rules and can't touch any of the exhibits. But here your children can explore and touch everything and enjoy their indoor day to the fullest!
THE FOUNDERS OF THIS MUSEUM ARE BLIND
However, the tactile museum was actually created for visually impaired people. The founders, Daniela Bottegoni and Aldo Grassini, are both blind. They created this museum after traveling the world and not being able to touch famous artwork. So, they decided to start this as a project to help blind people experience art; eventually this also became popular with children. The museum was built in collaboration with the Italian Union for Blind People and is located inside a beautiful historical building, called the Mole Vanvitelliana of Ancona, which is worth visiting just on its own.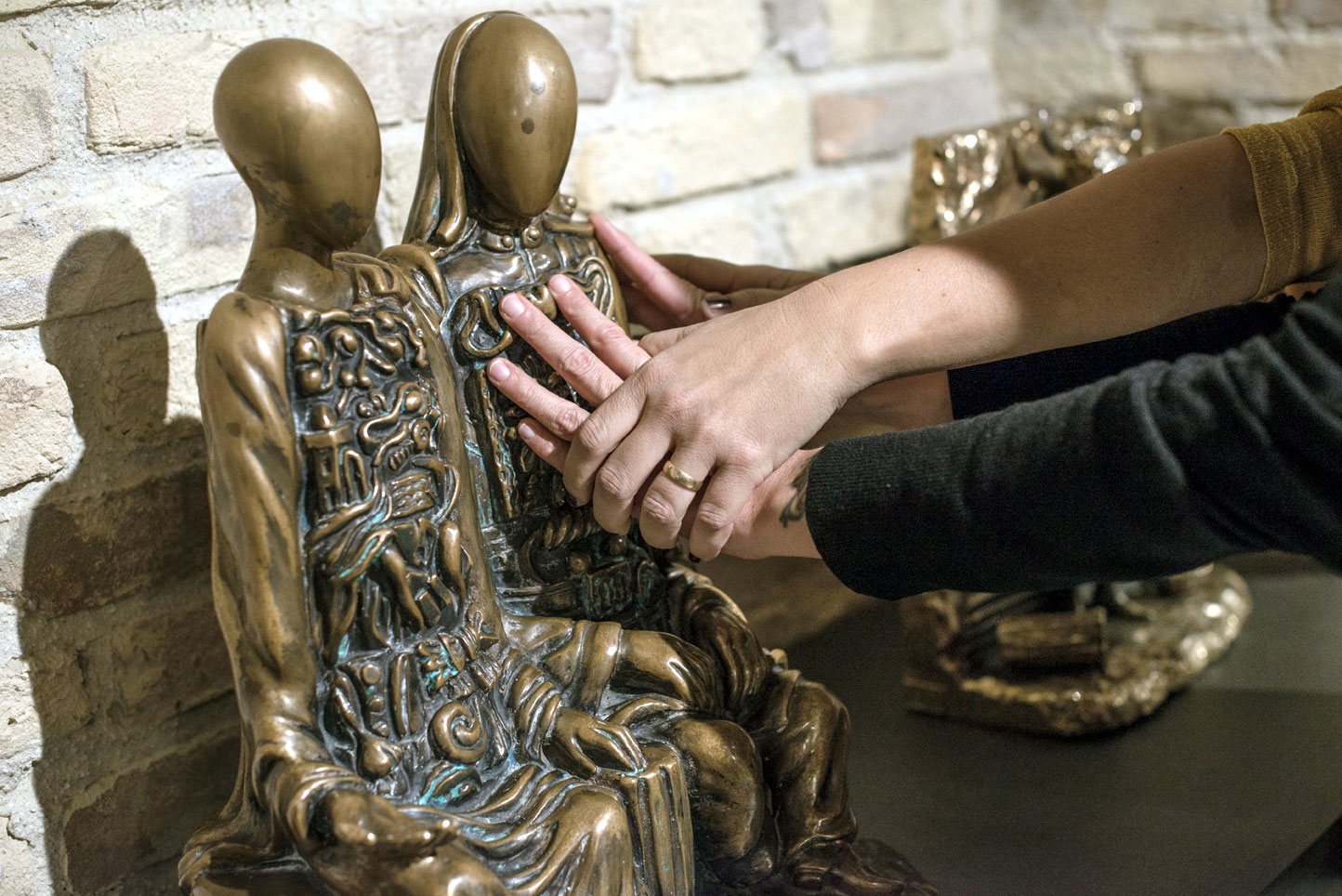 WHAT TO SEE IN THE TACTILE MUSEUM
The museum has a collection of plastic arts and sculptures from all eras; the sculptures start with ancient Greece and Rome and end with modern art. There's also an exhibit called "recycled Italy" by Michelangelo Pistoletto. Children and adults can touch all of these without any fear of damaging them! Most of the exhibits are replicas, of course. However you will rediscover some of the world's most famous works of art. The museum is perfect for both adults and children, and for people who can and cannot see. Access to the museum is free for all people.
INTERESTING FOR CHILDREN AND ADULTS
It is worth visiting both for adults and for children since they activities and workshops for both. Adults with normal vision can visit the tactile museum blindfolded, exploring the statues through their sense of touch. This makes for a really unique and special experience. Children can run around and complete worksheets to learn about art and art history, guided by the museum's super friendly staff who will answer any question. This way your kids will have a fun but also really educational day, especially since there is no better place to learn about art than Italy. The tactile museum also has workshops for whole families or children only and if you're interested make sure you visit their website: http://www.museoomero.it/
HOW TO REACH THE TACTILE MUSEUM
Address: Mole Vanvitelliana, Banchina Giovanni da Chio 28 – 60121 Ancona
Phone number: +39 071 28 11 935
E-mail: info@museoomero.it
To visit the museum from the north, exit the A14 at Ancona Nord and follow the Strada Statale in the direction of the Port. Go to the Cruise Terminal and then to the Mole Vanvitelliana, where you can visit the museum.
From the south, exit the A14 at Ancona Sud, follow the road towards Ancona's town center, and then towards Asse Nord Sud. Finally, follow signs to the Port and then to the Cruise Terminal and last to the Mole Vanvitelliana, where you can visit the museum.